Winter Chocolate Walk
Thursday, November 30, 2017
4:00 PM - 8:00 PM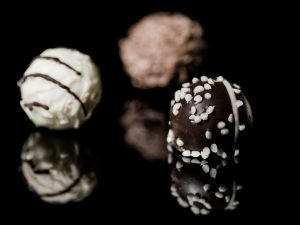 Bring your sweetheart or just your sweet tooth to Sycamore's Winter Chocolate Walk,  on Thursday, November 30 from 4-8pm. Enjoy the best of our downtown shops while sampling a vast array of fine chocolate desserts.  Enjoy a gourmet chocolate bar, chocolate covered pretzels, chocolate martinis, homemade chocolate marshmallows, chocolate meringue cookies and much more!  Shopping doesn't get much sweeter than this!
The Chocolate Walk will begin at Blumen Gardens at 4pm. There you will receive a Chocolate Walk guide listing all participating businesses. For your convenience we will also post the guide online to be printed at home. If you have a guide, you may begin at any participating business (see below). Be sure to make as many stops as you can – when your card is full – drop your card off with your name and phone number into the bag at your final location. The winner will be drawn from the names of those entered that made the most stops on the walk. We are featuring several wonderful raffle baskets this year.
2016 Participating Businesses: 
Blumen Gardens, Christian Connection, D&D Jewelers, Forthright Financial Planning, Grand Dental, Kramer's Kitchen and Bath, Luxe Salon, Made Just For You, Midwest Museum of Natural History, Paulsen Appliance and Electronics, Stomp, Sweet Earth, Sycamore Antiques, Sycamore State Theatre, The Confectionary, A Premier Realty Group , Taxco and Allstate Insurance.