Pumpkin Run 10K
9:00 AM - 11:00 AM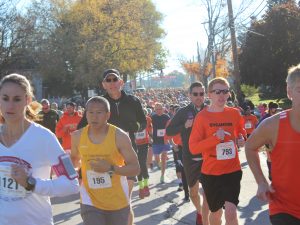 EARLY BIRD REGISTRATION OPEN NOW!!!
The 40th Annual Pumpkin Run, held Sunday, October 28th, is a 10,000 meter USATF-sanctioned and certified road race, draws more than 1,800 registered racers from all over Northern Illinois and beyond. Starting gun goes off at 9:05 a.m. sharp!
Race registration is available online. Registration forms may also be picked up at the Sycamore Chamber office, 407 West State Street in Sycamore. Also available on the race website is a detailed route map, photos of past races, and race results.
"We are excited to be awarding for the first time ever, embroidered moisture wicking pullover shirts to the top three male and female overall winners this year," said Rose Treml, Executive Director of the Sycamore Chamber.
This year the race will use ChronoTrack timing by Lakeshore Athletic Services. Results will be provided to all runners immediately following the race. Age divisions are: 14 and under, 15-19, 20-24, 25-29, 30-34, 35-39, 40-44, 45-49, 50-54, 55-59, 60-64, 65-69, 70-74, 75-79 and 80 and over.
Runners of all ages and abilities join together at the park just east of the National Guard Armory on Route 64. The route starts at the corner of Kishwaukee Drive and heads west on Route 64 past the beautiful historic 100 year old DeKalb County Courthouse. Runners will continue through the quaint downtown Sycamore business district and then south on Somonauk Street. Somonauk Street is a treat in itself. Runners will enjoy an archway that is a kaleidoscope of autumn colors. These trees compliment the lovely historical Victorian homes along that street.
Once crossing the finish line racers are welcomed by wonderful volunteers who have prepared post-race refreshments, which are located in the National Guard Armory. Racers 21 and over are treated to delicious Oktoberfest beer.
Northern Rehab Physical Therapy Specialists will provide post-race stretching as they have done in the past. Awards will be given to the top three male and female finishers in 13 age divisions and the first male and female finishers from Sycamore. Age divisions are; 14 and younger, 15 to 19, 20 to 24, 25 to 29, 30 to 34, 35 to 39, 40 to 44, 45 to 49, 50 to 54, 55 to 59, 60 to 64, 65 to 69, 70 to 74, 75 to 79, and 80 and older.
The Pumpkin Run was named a Best of Chicagoland Race by Chicago Area Runners Association a couple of years ago. The race is also sanctioned by USA Track and Field and the course is USATF certified.
Treml, who is in her 14th year operating the Pumpkin Run, has really taken the event to new levels. Over the last 13 years, the event has grown from just under 1,000 runners to over 1,800 – and their goal for this year is to sign up 2,000 runners. Some added features to the race in recent years include online registration, chip timers and now, every racer receives a long-sleeved Tech race T-shirt.
One of her most memorable races was in 2009 when the Pumpkin Run went overseas. With help from a local Sycamore man, Nathan Taylor, the Chamber organized a Pumpkin Run in Kuwait, almost 7,000 miles from Sycamore.
Treml added, "The runners also make our race special." We have groups that run for their special cause; recently Feed My Starving Children Mobile Food Pak, which is held in November, also Breast Cancer Awareness and a group raising money for the local food pantry. She said they have also had local businesses encourage employees to run together as a group. Because it is so close to Halloween we also have many runners that come dressed in costume. We have had super heroes, zombies, morph people and even pumpkins.
Don't miss out on one of the best races in Illinois! You can also visit our Facebook Fan page and share photos and comments with other runners.