Pumpkin Festival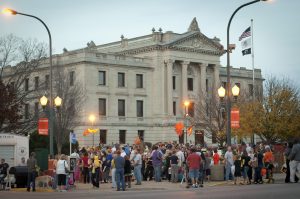 From: Wednesday, October 23rd, 2013
To: Sunday, October 27th, 2013
Downtown Sycamore IL
www.sycamorepumpkinfestival.com
Pumpkin Fest is one of the oldest Sycamore traditions.  Back in 1956, Wally Thurow, who is known as Sycamore's "Mr. Pumpkin", began what was to become the Sycamore Pumpkin Festival when he displayed a few decorated pumpkins on his front lawn to turn Halloween into a time of fun and creativity. In 1962, through the efforts of Mr. Pumpkin and the Sycamore Lions Club, the Sycamore Pumpkin Festival became an official celebration in Sycamore.
Every year, the Pumpkin Festival unites more than 30 DeKalb County non-profit groups working to provide a weekend of Halloween fun for all. The Courthouse lawn is the center of activities, including thousands of decorated pumpkins on display, there are also art and craft shows, a house walk, a pie eating contest, a carnival, a fun fair, a race and other events. The festival is concluded by a giant parade on Sunday afternoon.
Throughout the festival, good autumn food, snacks and souvenirs are available at stands operated by various not-for-profit DeKalb County organizations.
Come to town on Saturday for a morning of pumpkin festival fun – then spend your afternoon cheering on your NIU Huskies as they take on Eastern Michigan at 2:30pm!