June 1 – September 28, 2021 – Farmers Market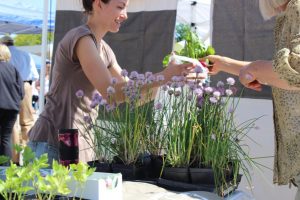 Every Tuesday
3:00 PM – 7:00 PM
New location! Blumen Gardens in Sycamore.
The Fresh is Coming in June!
Eat Fresh, Buy Local, and Be Well! We invite you to shop for locally grown just-picked produce, fresh from the farm and our Community Garden. We also have specialty goods like freshly baked breads and confections, organic herbs, beautiful fresh-cut and potted flowers, annual and perennials, olive oils, fresh home-made pasta, home-made salsa, fresh ground coffee/beans, local wine, food trucks, live music, and handcrafted products from area artists.
Our lively and family friendly Farmers Market brings fresh, high quality and locally sourced food to our community every Tuesday, from 3 to 7p.m., June through September under a canopy of beautiful, Blumen Gardens, 403 Edward Street in Sycamore.
This is our 16th year hosting the Sycamore Farmer's Market.  We host this market for the physical, social and economic health of ourselves and our community . . .
Presenting Sponsor: