Taste of Spring
Wednesday, April 11, 2018
4:00 PM - 8:00 PM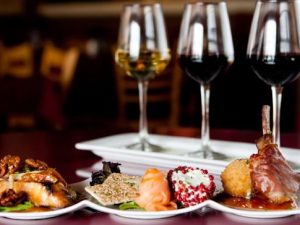 Taste of Spring 2018 tickets on sale now!
Save the date for our 9th Annual Taste of Spring on April 11, 2018. Be sure to purchase your tickets early, only 300 tickets sold.
Click here to purchase your tickets today!

Discover Sycamore is proud to present the 9th Annual Taste of Spring in downtown Sycamore on Wednesday, April 11th from 4 to 8 pm. Experience an evening dedicated to the finer things in life. Sparkling white, rich red, and, oh yes, food and desserts! Each wine tasting will be professionally paired with a food course.
The event begins at Blumen Gardens (403 Edward Street, Sycamore) at 4pm.  Registration starts at 3:30p.m.  At Blumen, you will receive your custom wine glass, tasting lanyard and the list of downtown businesses participating. Guests must be 21 or over to participate.
Sponsored by:
Our 2018 Participating Businesses:

Allergies Aches & Paines; Blumen Gardens; Brian Wright & Associates, The Confectionary,, First Midwest Bank, Forthright Financial Planning, Grand Dental Sycamore, Kramer's Kitchen and Bath, Lizzy's Pink Boutique; Luxe Salon, Paulsen Appliance & Electronics, Prairie State Winery, Ristorante di Acquaviva, Shawn's, State Street Theater; Sweet Earth, Sycamore Antiques, Taxco Mexican Cuisine and Whimsical Perspective.
Our 2018 caterers:
Sycamore Tom & Jerry's featuring Catering by Diane
Premier Catering
Sycamore Country Store and Catering
Sweet Dream Dessert & Catering
Hopper Poppers
Taxco Restaurant Too
Culver's
Fatty's

If you have further questions regarding tickets and registration please call the Sycamore Chamber of Commerce at 815-895-3456.